Orbiwise LoRa® network-based noise pollution monitoring solution
Why the need to measure noise pollution?
Noise pollution is a major environmental health concern in Europe that has risen in prominence over the past few years. Recent exposure data from the European Environment Agency (EEA) highlights that more than 100 million European citizens are directly affected by high noise levels stating that noise remains a serious threat to human health, increasing the risk of heart disease, stroke, diabetes, sleep disturbance, stress and cognitive impairment of children.As a result, th e European Union's Environmental Action Program requires member statesto publish noise maps and noise management plans for various largely inhabited locations including cities with the aim of significantly decreasing noise pollution levels to WHO recommended levels.
The challenges of collecting noise data
Traditional 'sonometers' are devices that are bulky and time consuming to use.Measurements are taken manually and so tend to be used in small quantities, possibly even a single device so data collected is taken over long periods of time and don't generate sufficiently reliable data, specifically taking into account the impact of rain and wind.Acoustic profiles are based on trends and assumptions and don't provide immediate feedback to any noise reduction actions taken. In addition, sonometers are expensive tools costing as much as €8'000 a device, so multiple devices, especially as required by large cities can generate costs in hundreds of thousands of Euros to be in compliance with EU directives.
The OrbiWise IoT noise pollution monitoring solution
There are two components to OrbiWise noise monitoring. The first is OrbiWANÔ, our carrier-grade IoT platform that manages LoRa® based networks and provides our clients with the most advanced network management tools and a scalable architecture to support large operators' deployments and smaller Enterprise IoT applications alike.
The second component is the Sampol noise sensor and application itself.OrbiWise has developed an IoT noise monitoring platform that measures and analyses in real-time the noise level in urban areas by utilizing a smart Sampol sensor made of a high-performance microphone and a radio-based communication module. The real-time connectivity is enabled by OrbiWise's OrbiWANÔ LoRa® network solution and is compatible with other LoRaWAN® networks too.
The OrbiWise noise pollution IoT devices use a high accuracy microphone for achieving reliable readings and are battery-powered with operations of up to 5 years. The Sampol devices are placed in locations over a defined area, then are managed to collect and transfer data usually every 15 minutes to generate detailed real-time reports allowing cities and enterprises highly reliable, continuous and ubiquitous data collection, to generate highly reliable noise maps affordably and more quickly than possible previously.
Advantages of the OrbiWise IoT noise monitoring solution
High quality reports – accurate real-time information
Reliable and flexible demand generation – frequency of data collection is programmable up to every five minutes
Cost effective solution – a fraction of the cost of the traditional measurement deployments
No dependence on a WiFi or Bluetooth infrastructures – the long range of the LoRa® networks allows the flexibility to deploy the devices wherever necessary
Quick deployment of multiple devices
OrbiWise in action
OrbiWise's current biggest installation is in Carouge, in the neighborhood of Geneva a year ago where there are now 600 sensors deployed.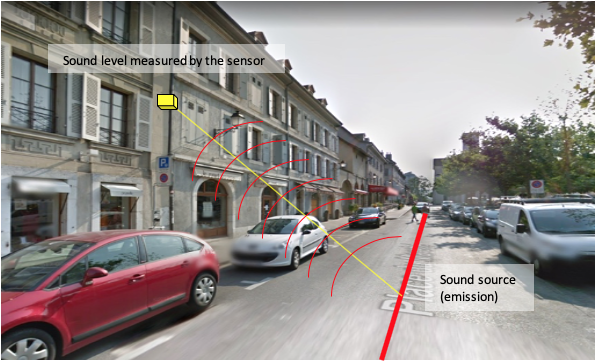 An example of how sensors were deployed at locations where road traffic noise would be likely to be the main noise source and installed on gutter pipes for easy access.
The data collected can be cut, sliced and analyzed in multiple ways.
By time period
Type of location

residential, industrial, business, building sites,

Different height levels for 3D mapping.

analysing different noise impact factors such building sites, events etc.
The analytical options are almost limitless!
New European noise pollution projects for OrbiWise.
OrbiWise has been selected to supply noise pollution monitoring devices for pilot initiatives in three cities as part of the European Union SynchroniCity project in partnership with DunavNET who supply the air pollution sensors. SynchroniCity aims at delivering a platform where cities and businesses develop IoT and AI-enabled services through pilots to improve the lives of citizens and grow local economies.
These particular projects will run towards the end of the year and has the objective of measuring noise and air pollution, initially in three locations – Carouge, Switzerland; Santander, Spain and Novi Sad, Serbia. These devices are all managed through the OrbiWANTM LoRa® network platform.
Data will be captured every 5 to 15 minutes and results will be made publicly available. After reviewing the results at the end of the test phase towards the end of the year where the projects can potentially be replicated throughout Europe.
More information on SynchroniCity can be found here
https://synchronicity-iot.eu/project/smartimpact/
More information on DunavNET air pollution monitoring systems can be found here: https://ekonet.solutions/